...it being understood that Seller and Seller's agents make no representations or warranties
pertaining to the fixtures or state of repair of the World or any of its systems.
Not a Member of BATLaw
: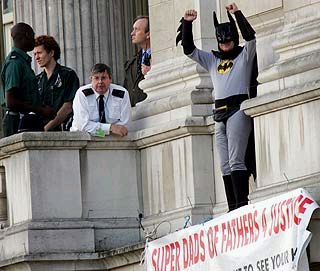 The Economist reports that on 9/13, this man and his accomplice strutted their superpower moves and exposed major weaknesses in buckingham Palace security. Registration req'd, so I'll give you the story in relevant part:
On September 13, two men dressed as comic-book characters scaled a fence around Buckingham Palace before clambering on to a ledge. Robin Robin (David Pyke) gave up when challenged by armed police, but Batman (Jason Hatch) shouted and gesticulated for five hours. His point: he was a serious and responsible parent who ought to be granted more access to his children.

Mr Hatch, who once changed his surname in order to protect his children's privacy (the move hardly seems sufficient), not only attracted further scepticism and ridicule for his cause. He also fell for the old police trick of plying protesters with sweet drink. As any child will testify, a good dose of orange squash will, after a few hours, lead to discomfort. Particularly if your underpants are on over your trousers.