...it being understood that Seller and Seller's agents make no representations or warranties
pertaining to the fixtures or state of repair of the World or any of its systems.
damn ip rules
: Here's proof that i'm NOT still sitting around thinking about the NYT
editorial
and that i'm NOT going to mope around worried about the election for the next two weeks, hopefully.
A human interest story--for lawyers (and other people):
Retropod
is--well, ok, was--a website that sold homemade ipod cases made out of "retro" sony walkmans. Then came the letter from Sony's attys: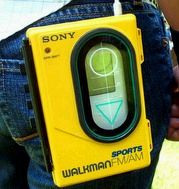 "Sony recently learned that you are selling a case for carrying an iPod personal stereo that is made from a WALKMAN tape player. The product is being offered at your website at www.retropod.com.
***
Your use of casings for such a purpose is a clear infringement of the SONY and WALKMAN marks because it is deceptive. Consumers likely will be misled and deceived into believing that Sony is somehow connected with the iPod personal stereo when in fact it is not. Moreover, they will be misled into thinking that Sony is backward in its design of products and is going away from miniaturization, as the size of the tape player housing is quite large by today's standards."
...Ahhhh, the old miniaturization-confusion argument. Sony's right, it would be mass chaos. We have to put a stop to this. So did this letter--known in the trade as a "cease and desist"--do the trick? The guy who runs the site reports that he thought about it "for about 10 seconds" before issuing refunds and closing the shop down.
(via
Boing Boing
.)