...it being understood that Seller and Seller's agents make no representations or warranties
pertaining to the fixtures or state of repair of the World or any of its systems.
new numbers
: The results are in... Wisconsin is STILL tied, so it looks like we will continue to be showered with inordinate attention for the next two weeks. Here are the results of today's poll, which appeared on the front page of the Wisconsin State Journal, successfully scanned, and somewhat-less-successfully photoshopped, by yours truly. The numbers look better for kerry than they do for Bush, but take note of the
margin of error!!!
. I am not used to seeing a margin of error that big--5 points--so I can't tell you whether that's because this local poll was done on the cheap, compared to the national polls, or whether the pollsters here in 'Sconny are just more honest. :-)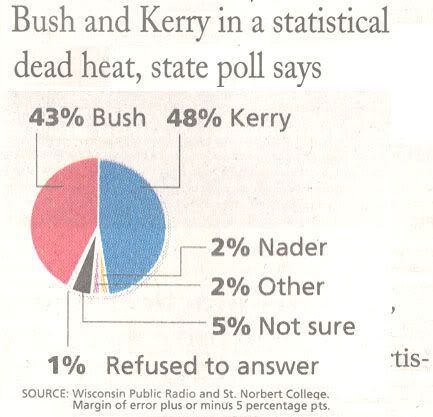 So... it pretty much just comes down to how those 5% of "not sure" and 1% of "refuse to answer" voters break on election day. Maybe they'll wake up with a cough that morning and the fad-non-issue of the week, flu shots, really will determine the outcome of this election.
NOTE ALSO THE NADER FACTOR: He's polling at 2% here, which is the same number of people who support an "other" third-party candidate. Those "others" are usually conservative, so even if we had instant run-off voting, the reapportionment of third-party votes would probably be a wash. That is, it looks like Nader is NOT spoiling the race for Kerry.
A huge caveat to the last bit is that, if you believe the margin of error, nader could actually be polling at negative 2%. The negative number represents people who voted for Nader in 2000 but had their fingers crossed--I'm not exactly sure how that works but, hey, politics is complicated.
(MAJOR UPDATE!!!!! The numbers don't add up to one-hundred. Look again. I'm sure there's some kindof statistical explanation involving the Hypergeometric Distribution of percentiles. Somebody friggin get me
Geoffry Wallace
and a TI-86, pronto.)