Life As Is
...it being understood that Seller and Seller's agents make no representations or warranties
pertaining to the fixtures or state of repair of the World or any of its systems.
It's the end of the week as we know it (and I feel fine)
: This once-a-week posting... it's a little bit like being in a long-distance relationship. (Immediate red flag: does this guy have an unhealthy attatchment to his readers? you tell me, but I don't think so.) What I mean is, you go about your ordinary life and then at some point later, say for an hour, in the evening, on the phone, you try to summon up a performance recreating everything that's happened since the last time you spoke to your mate. Blech. No thanks. I'd rather spend an hour on the phone, as vague as this sounds, just being present.
So... a week has gone by since my last post, stuffed full of observations, mini-epiphanies, and other blogable events. Try as I might, there would be no way that I could condense it all into a single-post format. I guess I could try making a big list--something along the lines of the REM song, see title above, but I won't because I want to be present as I post.
NO BABY YET, by the way. We both really sensed that he was coming, and then it receded, so now we're back in the holding pattern. Due date is Feb 3rd, for all whom I haven't told.
My eldest has predicted
, over at
SosySteps
, that his younger brother's arrival date is going to be Feb 4th. Astrologers, start calibrating your computers--can we work with that? We've got an Aquarius on our hands for sure, but what's going on in the 12th House on the 4th? How is this kid going to fit in with three fire signs, for goodness sake? (Not to mention one who's a lawyer and another named Sawyer).
Gotta run. Check out
this post
of more than
Marginal Utility
. Tom picked up on a snippet I dropped into a post a while back and made something meaningful out of it. That's the way this stuff works.
Also, I bought overshoes yesterday and ordered life insurance today--it was a weekend of big purchases. Guess which one I took longer to mull over (hint: in the "Rubber Footwear" aisle of Farm and Fleet).
the time's a-coming
: All week Kris had been saying--I want Number Two to come soon, but I hope he waits until after our meal at Harvest! (See previous post.) Well, we've had our meal. And now you know what's coming next... time to get ready. I'll post an update next Sunday evening, one week from tonight. (Unless some magic happens.)
A people-filled weekend
: Because it's still too early in the semester to have a book-filled weekend, Kris and I did right by ourselves and socialized this weekend. On Wed I had bumped into an old friend who now lives in Italy; he is visiting Madison for a few weeks. We had him over on Friday for dinner and to play with Sawyer. A rare treat. I stopped short of making a pitch to get him to move back to Madison--but I wish he would!
On Saturday Kris and I went out with a group from work for a phenomenal meal at Harvest. I had pheasant with fois gras emulsion. Every bite was a dream. Also, great company, lively conversation, and lots of wine tasting. We were there for 3 and 1/2 hours--it's the slow food capital of Madison, what else do you expect?
Then, to keep the party going we sat up at home that night and talked with Jen and Carlos, our noble babysitters, for a few hours about various topics (including how cute our kid had been while we were gone and their upcoming nuptials, to name a few).
I want to do it all over again!
Update / alt posting schedule
: Kris and I picked out Number Two's middle name. Yay, we got the job done. Also, my firm is starting a newsletter and I picked out its name. (Well, OK, to be precise, one of my bosses likes the name that I picked... we'll see what happens.) Anyway, that was cool, too. I like naming things.
Other big news, I ordered a rolodex. Everybody send me your business cards. I got an empty rolodex waiting to be filled.
In the third sphere of life (family, work, school) I'm excited to have begun a new semester and, unlike usual, not suffering from fatigue because (1) I had a restful break, and (2) I can see the light at the end of the tunnel now.
Importantly, it appears that of my final crop of profs, all four are going to work out really well. Two practitioners and two academics. Of the practitioners, one is full of anecdotes and practice tips, the other is tax-code-guru guy. Of the academics, one is at the beginning of her career and the other is toward the end of his. All in all a good mix.
I'm so glad they aren't duds. Not that a lot are. I just can't deal with dud professors like I used to be able to. I can't fake it anymore; I've been at this too long now. (It's my ninth year of post-secondary education.) Luckily, UW Law rarely let you down.
And that due date is
right
around the corner. In anticipation of the craziness to come, I might try to implement a
new posting policy
along the lines of what
Posner and what's-his-name
set up on their blog. Initially, they posted just once a week, on Mondays. Not sure if they still do that anymore, because I don't usually read their stuff.(*) But that sounds like a good idea. I like being on a schedule, at least for a while.(**) I will try to post once each weekend, probably Sunday night, for the next month and see how that goes.
I will make an exception to the new posting regime under certain extraordinary circumstances... birth announcements, new Suzanne Vega albums, my tax grade comes online, etc.
By the way, once we have a baby around here keeping us up at night and the
no-sleep schedule
kicks in, I'll have more time on my hands. That should allow me to begin posting more often again. It'll be a running document of my deteriorating state as the long-term sleep deprivation takes hold.
Life, As Is, an adventure.
------------
* But it's not bad, check
this
out (it's what's-his-name, not Posner):
"Compensatory" damages are supposed to compensate individuals for their losses from medical malpractice, and other careless or reckless behavior. In practice, they commonly refer to the loss of earnings due to injury or death from such actions. Yet the correct measure of compensatory damages should equal what individuals are willing to pay to avoid death or the injuries in question. The value placed on loss of life, or on substantial disabilities, are usually many times greater than the loss in earnings.
That's interesting, no? His point sounds obvious when you read it. But he is, of course, in the course of these four sentences, turning conventional wisdom on its head. Humph.
** Because I'm doing footnotes: did you know that
awhile
means "for a while"? So if you write
for awhile
you're actually writing "for for a while." You can do it if you want, I'm not stopping you.
Loosey Goosey
: Today I went back to the office for the first time since the summer. The place fit like a glove; I really like my job. Everyone in the office was exactly as I had remembered them. Most importantly, though, my special jet-black heavy-duty staple-remover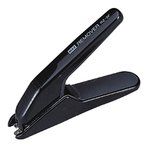 was in its hiding spot where I had left it. It's a very important staple-remover. The one staple-remover. The one staple-remover to rule them all. I know what you're thinking, but if that thing fell into the wrong hands it would be our downfall. Carrying it is my burden. Mine.
You'll have to excuse me, I had some wine with dinner. And it is a really nice staple-remover.
Loosey Goosey, by the way, is a phrase that only one person in the world actually uses in casual conversation. I work with him. He said it to me within the first half-hour that I was back. Funny how I had been missing that phrase.
Hello
: Bought my books yesterday; it's time to come in from the cold. Vacation was relaxing and filled with laughter. I did get the flu for five days, but even that was probably necessary—I needed the sleep.
Fountains of kudos to Robert Shumaker for not only being a good Civ Pro II teacher, but for giving me a grade that I'm happy with. None of my other law-school grades are in yet, which is probably for the best.
New picture of Sawyer (and our friend baby Adlie) at
SosySteps
. I haven't posted over there for a while either. So many wonderful things have happened that there is no sense in trying to capture it all. But if you see Kris or I, ask us about him. The look on our faces will tell you more than I ever could.
We are getting VERY close to Number Two's due date. Kris is amazing. Pregnancy is amazing (-ly draining). Yes, Number Two has a name. No, you can't hear it yet! :-)
I took a stroll through everybody's blogs for the first time in at least two weeks. I'm truly excited to get caught up. Hi all.
On Hold for a While
: There comes a time in life to put on your coat and go outside... and the first of the year seems as fitting a time as any. I haven't gone away permanently. Check back here for new posts in mid-Jan (and if you have a blog of your own I will get caught up on yours then, too). Blessings.