...it being understood that Seller and Seller's agents make no representations or warranties
pertaining to the fixtures or state of repair of the World or any of its systems.
Loosey Goosey
: Today I went back to the office for the first time since the summer. The place fit like a glove; I really like my job. Everyone in the office was exactly as I had remembered them. Most importantly, though, my special jet-black heavy-duty staple-remover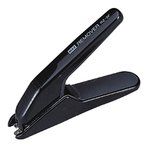 was in its hiding spot where I had left it. It's a very important staple-remover. The one staple-remover. The one staple-remover to rule them all. I know what you're thinking, but if that thing fell into the wrong hands it would be our downfall. Carrying it is my burden. Mine.
You'll have to excuse me, I had some wine with dinner. And it is a really nice staple-remover.
Loosey Goosey, by the way, is a phrase that only one person in the world actually uses in casual conversation. I work with him. He said it to me within the first half-hour that I was back. Funny how I had been missing that phrase.