Life As Is
...it being understood that Seller and Seller's agents make no representations or warranties
pertaining to the fixtures or state of repair of the World or any of its systems.
Reflections on my newly-"closed class"
: Sharp tacks everywhere will be quick to identify the term "closed class" as an estate-planning term and remind me that I can't properly use it to refer to my children, because
you never know
. True. But we're pretty damn sure, anyway, that they're a closed class. More on that.
BUT FIRST... this update: things are heating up around here! Not only have I deviated from my self-imposed restriction on posting (supposed to be down to once-a-week), but in the comments Eric has submitted a feisty response to my
alum donations
post of Friday.
And as for the recent population explosion in my family, boy, am I impressed with myself. For almost three decades I made my way in the world as a single, solitary unit. But in the short span of three years I've taken on three fellow passengers. In other words, I've quadrupled in size! After that rapid growth spurt it's time for my family unit to stay where it is at for a while (say, for twenty years or so). So let's take stock of the sitch. Final tally: myself, two boys, one spouse. That makes three guys out of four, which is an ironic twist in Kris's life. She grew up in a house with all ladies and now finds herself surrounded by guys.
How will Kris fare with all these males swarming around doing male-type things night and day? I figure that when you know a person quite well their gender can take a back seat to individual personality, so the real question to be asked about Sawyer, Adrian and myself is whether we're manly men.
I once broke into tears during the climactic scene of
A League of Their Own
on an American Airlines flight to Seattle. So in other words it's looking good for Kris, but do I get points for having a beer belly? OK, probably not. I do have a macho streak that surfaces occasionally, but nothing can erase what I sometimes refer to as the "League" incident. However, I remain optimistic that my boys won't be subject to the same Penny-Marshall-induced weakness of their father. They are both getting a strong, manly start. For our new baby--Adrian--you've got the name. It's very much a guy's name, don't you think? And neither is there doubt that Sawyer is a rough-and-tumble dude. His favorite
Indigo Girl
--and this is true beyond question--is
Amy Ray
. Equally true (and I guess this undercuts my hopes for Sawyer if you believe all that "chip off the block" prattle): mine is
Emily
.
Lawrence Summers
: He was attempting to convey some very provocative thoughts about a complex topic, for which I applaud him.
But
his ideas were undeveloped, and he provided scant evidence. Hey, it occurs to me, what Summers needs is a blog!
On the Subject of Alumni Donations to the UW Law School
: UW Law alums you should be receiving your Winter issue of the
Gargoyle
soon. For the benefit of others (and, I suppose, recent graduates who don't often check their mailbox), I need to explain that the
Gargoyle
is our alumni magazine. It's named after our mascot, a true-blue gargoyle, made of sandstone, who was perched on the roof of the original 1893 law building.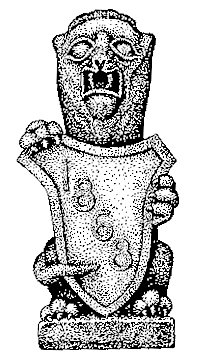 Legend has it that our gargoyle was rescued from the rubble--by the law school dean, no less--when the building was torn down in 1962. The Gargoyle and his mate of almost seventy years can be seen in
this
photo of the old law building. Said mate was lost in the destruction. Sadly, so was the rest of the old law building.
But their memory lives on in the pages of the alumni magazine... so don't despair!
The impetus for the magazine, of course, is to encourage people to donate. So before you start flipping through it either cursing or trying to decide how big a check to write, I'll give you one more thing to think about. My own faith in the UW Law School recently has been renewed and rejuvenated. Why? Because the faculty hiring committee is doing right by us. My professor in Constitutional Law this semester is a new hire and she's a
really
good teacher. (Her pic is on page 18.) And lest you think that this post is a shameless attempt to influence my grade in her class (because you're
that
cynical, and you don't believe that grading is really anonymous, and you love this blog so much that you think all my professors must be reading it) full disclosure: I am taking Con Law pass/fail. In fact that probably partly explains why I enjoy the class, but it's also the teaching, just trust me.
She of course joins the ranks of a faculty that is brimming with good teachers, and several great ones. But the important point is that she matches them, which means the my soon-to-be alma matter isn't slipping. Even more than the mascot, that's what I care about.
Blogging is the new religion
: Sneaking a mid-week post.
I am having trouble restricting myself to one post a week, which was my bargain, at least while I have so much new family stuff going on. I'm feeling the call of the keyboard on a daily basis, though. I decided that I'd rather craft, say, one thoughtful paragraph each morning than seven on Sunday. Why? Because faithful readers deserve a faithful writer. Also, because it's more natural. Life comes at you every day, and so, ideally, would *Life As Is.*
My grandmother, who is religious by the way, gave me a magnet in 1983:
Seven days without prayer makes one weak
.
Was blogging what she had in mind? Probably not but it's worth asking. In any case I don't think the magnet is as corny or wired as I used to. That's something.
--------------------
[UPDATE: blogger.com's spell-check wants me to replace blogging with
flogging
, a word that may or not have religious connotations. I'll leave it to you.]
Mode Shifting
: Some weeks are more exciting than others. This has been an exciting one.
First off... my new kid is a-do-rable(*) scroll down and look at that picture. Do you
see
his little hands how they are placed just so? So, yeah. He seems so tiny but everyone that's around babies a lot tells us he's a big boy.
I updated
Thursday's post
--which served as an informal birth announcement--with the official birth stats. People like to get those. Go check them out.
Now that I've hung out with him for a while I can also tell you some things about his personality. Two words: long and loose. Our first baby was compact and more fragile. This one is limber and strong. He can hold up his head well, and he has extended arms like a basketball player. He doesn't like being swaddled up in a blanket either, more of a lounging fellow. Stretched out with room to move. Kris says that's how he was on the inside, too, only there wasn't much room to move (which explains the bruised ribcage).
The first three days of his life passed by worry-free; sleeping, coo-ing, cah-ing. Major family bonding time. Sawyer hovered around paying much attention to his new little brother.
On Thursday Adrian was admitted to Meriter Hospital. It was a very difficult day. Medically, there wasn't that much wrong with him. He had excess bilirubin (red-blood-cell by-product) in his system, and, because of the bili-backlog, his baby-sized liver couldn't do all the work that was being asked of it. They put him under a bank of low-intensity UV lights for about 24 hours beginning on Thursday afternoon.(**) I had a very hard time with it. Kris and I were there the whole time, but we couldn't pick him up when he wanted to be held. The feeling of helplessness was enough to trigger thoughts of how hard it would be if something ever really went wrong. We kept having to remind ourselves: "There is nothing wrong!" And it was true, there wasn't. But we had no frame of reference... I was just glad to get home.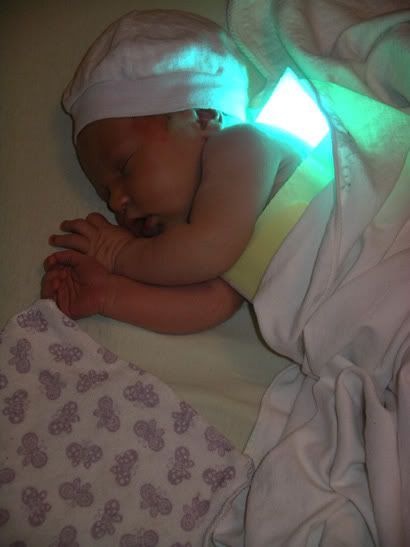 They gave us a UV blanket(***) to wrap around him, which we did, as he slept peacefully over the weekend.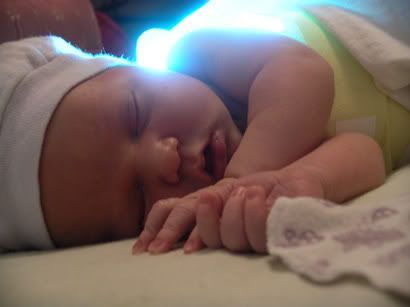 Since then it has been an around-the-clock teamwork effort. Check out this routine: Every two hours the alarm goes off, Kris nurses him, pumps out whatever is left, and then we
force
-feed him the milk that was just pumped. That's my job. By the time it's done, there's little time for sleeping before the alarm goes off again. We also have to build in time for changing him, adjusting his UV-blanket-thingy, and pausing to admire his adorable cuteness.
Why in the world, you ask, would we force feed our baby boy (who is not lacking in chub, as you can see in the pictures above)? Short answer: flush out his system so we don't have to go back to the hospital for any more fun in the sun. And,
how
(apart from very carefully) does one force-feed a long and loose, one-week-old, bouncing baby boy? The main ingredients are milk, a pinky finger, and a syringe. And perserverance. Also, if you want to do it well, read up on Pavlov.
That's the time we've been having. I feel really close to Kris. She and I went through that routine together for 48 hours straight. It was a no-questions-asked, let's-just-do-this kind of thing. The best part is that Adrian is doing exceptionally well. This afternoon, as we were closing the book on the routine and the whole bilirubin episode, one of our nurse-midwives, Mary, came over to our house. She is an expert in all things lactatious and has been working closely with us for the past few days. Today she triumphantly weighed him: 9 lbs 8 oz! He's excelling in his growth!
Good boy. You're not such a rebel after all.
It's been an exciting week.
-----------------------
*You perfectionists out there, and anyone who enjoys reading aloud, may appreciate knowing the author's intended pronunciation: This kid is
ah doh rob lay
. Four syllables. Try it again. FYI--these are the kind of tips that will all eventually be compiled in a single volume, the companion guide to *Life As Is.* Take each page as it comes.
** The lights converted the bilirubin into a form that he could process (read: expel) at a rapid rate.
*** Cheesy trademarked name: The Bili-Blanket. There is a private company on Park Street that contracts out with the hospital to supply them as needed. The guy was nice enough but he grew miffed when I made him wait while I read every piece of paper he wanted me to sign. My behavior made more sense to him after I explained that I was a law student.
Beautiful Boy
: Welcome Baby Adrian!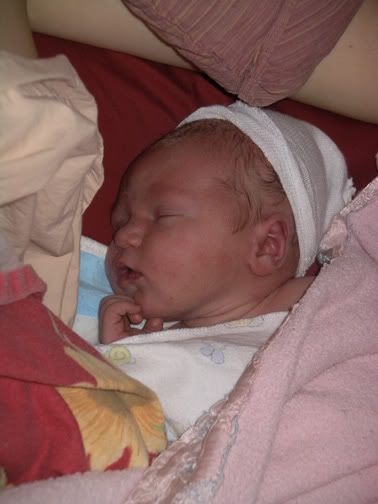 [Update (baby stats):
First name AdrianMiddle name TerrenceLast name ChilesCame out to meet us on February 7, 2005 At the Madison Birth CenterThe time was 8:18 a.m.He was 9 lbs, 2.5 oz.; 21 inches]
pins and needles
: Time has been suspended. We have sat on the edge of our seats all week waiting for A.'s arrival.
Unlike last time, I don't feel a weight of impending responsibility about nuturing and parenting him. Thanks to my experience of
the past two years
I know that once we get this guy in the nest, all the other stuff will seem as easy as breathing. (Breathing isn't always easy.)
It's just that first breath... his, I mean. I feel the same nervous anticipation that I remember from last time; I'm concerned about giving him a smooth transition into the world.
Anyway, the baby's imminent arrival has me thinking about life; and paths of lives. Incidentally such thoughts, when I follow them, usually end up returning me to the point of beginning: Trying to take *life as is.*
And a big thank-you to
Ocean
, in general, and for
this post
, and the pictures therein, turning around my thinking on the subject of Februaries:
...if you look at the play of sunshine against the trees and snow, you'll understand that there is a magic there and it does not appear in March, or April, or May.
Readers beware of following the link. The blogger spell-check, in its wisdom, suggests to us that
ninacamic
be replaced with the word "mincingly." What that tells us about Ocean I am not sure, but you've been warned.
And on a final note, I wish to give a word of warning to any WI Law 3Ls who are delaying filling out their diploma-privilege bar applications, like I was until very recently. Get started; it's going to take longer than you think. I'd almost rather just take a bar exam. (I said almost.)