...it being understood that Seller and Seller's agents make no representations or warranties
pertaining to the fixtures or state of repair of the World or any of its systems.
On the Subject of Alumni Donations to the UW Law School
: UW Law alums you should be receiving your Winter issue of the
Gargoyle
soon. For the benefit of others (and, I suppose, recent graduates who don't often check their mailbox), I need to explain that the
Gargoyle
is our alumni magazine. It's named after our mascot, a true-blue gargoyle, made of sandstone, who was perched on the roof of the original 1893 law building.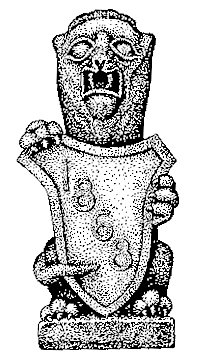 Legend has it that our gargoyle was rescued from the rubble--by the law school dean, no less--when the building was torn down in 1962. The Gargoyle and his mate of almost seventy years can be seen in
this
photo of the old law building. Said mate was lost in the destruction. Sadly, so was the rest of the old law building.
But their memory lives on in the pages of the alumni magazine... so don't despair!
The impetus for the magazine, of course, is to encourage people to donate. So before you start flipping through it either cursing or trying to decide how big a check to write, I'll give you one more thing to think about. My own faith in the UW Law School recently has been renewed and rejuvenated. Why? Because the faculty hiring committee is doing right by us. My professor in Constitutional Law this semester is a new hire and she's a
really
good teacher. (Her pic is on page 18.) And lest you think that this post is a shameless attempt to influence my grade in her class (because you're
that
cynical, and you don't believe that grading is really anonymous, and you love this blog so much that you think all my professors must be reading it) full disclosure: I am taking Con Law pass/fail. In fact that probably partly explains why I enjoy the class, but it's also the teaching, just trust me.
She of course joins the ranks of a faculty that is brimming with good teachers, and several great ones. But the important point is that she matches them, which means the my soon-to-be alma matter isn't slipping. Even more than the mascot, that's what I care about.